River Wear search for missing Ian Bell 'scaled down'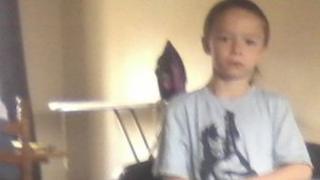 A four-day search for an eight-year-old boy who fell into the River Wear in County Durham has been scaled down.
Ian Bell, of Sunnybrow, was playing with friends when he went missing near the embankment at the Brown Trout pub, near Willington, Crook, on Friday.
Divers, fire crews and mountain rescue teams have so far failed to find him.
Durham Police said the decision to wind down the search had been "difficult" and thanked local people for helping.
'Thank community'
Ch Supt Andy Reddick, who is co-ordinating the search, said: "This was a difficult decision for all of us involved in the search for Ian.
"A decision to scale back the search was only made after consultation with our colleagues in the other emergency services and discussions with experts in the field of search and rescue.
"Ian's family have been kept up to date with our decisions.
"We would once again like to thank the local community for their continued help and support in the search for Ian."
So far a 13-mile (21km) stretch of the River Wear has been searched with help from the County Durham and Darlington Fire and Rescue, Teesdale and Weardale Search and Rescue, the County Council Civil Contingency Unit and community volunteers.
Earlier Mr Reddick said hopes of finding Ian alive were "fading".
He added: "After four days of continuous searching using all resources we have available we are still yet to locate him.
"During the search for Ian we have been overwhelmed by the offers of assistance from the local and wider community.
"Volunteers have been providing refreshments for our search teams and the general public. We would like to thank them for their help."
Trained officers have now searched as far as Durham City from the point where Ian is believed to have entered the water.
A specialist underwater camera team from Derbyshire also assisted in the search for Ian on Monday.