Gateshead WWII houses resurrected at Beamish Museum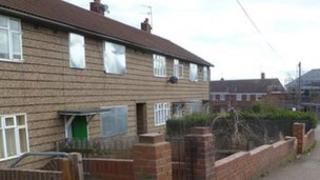 A block of houses built to re-home people after World War II is to be saved from demolition by moving to a new home at a museum.
Airey houses were prefabricated homes constructed in great numbers at the end of the war as a temporary replacement for homes destroyed by bombs.
Designed by Sir Edwin Airey, they were intended as a temporary measure, but many still remain in use.
Now, a block of four Airey houses in Kibblesworth is being resurrected at the Beamish Museum in County Durham instead of being destroyed.
The houses were recently vacated and were due for demolition, when The Gateshead Housing Company offered the whole block to Beamish.
'A second chance'
Richard Evans, director at Beamish Museum, said: "People shouldn't look down upon nostalgia, that connection back to previous generations is really important.
"Understanding your grandparents' generation, you know the improvement to the quality of life shouldn't be forgotten, the space, the gardens, the quality of light inside, people had a real improvement in their daily life."
Featuring a frame of prefabricated concrete columns clad with a series concrete panels, to move them to their new home they will be deconstructed and loaded onto pallets.
They will then be transported and stored at the museum to be used in a new north-eastern post-war urban development there.
Beamish is planning to build a 1950s exhibition which will be added to the existing Georgian, Victorian and Edwardian areas.
As well as appropriate buildings, it is anticipated that the collecting of 1950s artefacts will commence later this year.
"The 1950s area is still very much in the planning stage, we'll be launching the collections project later in the year.
"The Airey houses tell a major part of the 1950s story, so we have taken the opportunity to collect them whilst we can - we may not have got a second chance," said Mr Evans.
'Childhood memories'
Mary Gardner's family was one of the first to move into the houses in Kibblesworth and lived in a prefab house for 17 years.
She said she was glad to be moving into a more modern house as the prefab was "very cold".
"All my childhood was spent in one of those... everybody knew everybody, you knew everybody that lived in every house in Kibblesworth and everybody always helped each other, it was a nice place to be brought up.
"At the time everybody thought they were marvellous because they had indoor toilets... they were very updated then," Ms Gardener said.
Speaking about her home being moved to Beamish, she said: "It will be looking into the past, some of the cottages that are there, my mum was brought up in one like that... so it's like going down through history.
"It keeps part of your childhood memories alive if you can go up there and look at it."
The first parts of the houses will arrive later this week and the whole deconstruction project will be completed by late June.