Funding for new Hadrian's Wall visitors centre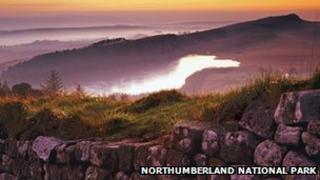 Plans to build an education and visitors centre on Hadrian's Wall have moved forward, thanks to a Heritage Lottery grant.
Northumberland National Park Authority and the Youth Hostel Association are to get £399,200 for development of The Sill, at Once Brewed, Northumberland.
The money will help progress plans to apply for a full grant of £6,303,500 at a later date.
As part of the project, a new building including accommodation is to be built.
Tony Gates, chief executive of Northumberland National Park Authority, said: "This is a once-in-a-lifetime opportunity to capture the public's imagination and fully engage people in shaping our future use of the land.
"I am delighted that we are able to work in partnership with the YHA, it gives us an opening to work with young people and help to inspire future generations."