Computer game helps rehabilitate stroke victims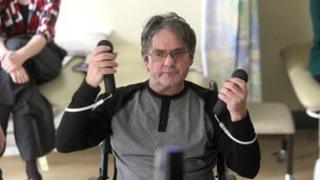 Scientists at Newcastle University have developed a computer game designed to help stroke victims recuperate.
The Circus Challenge game, created with a computer game studio, aims to help patients recover motor functions.
Players use wireless controllers to perform virtual circus acts such as lion taming and plate spinning.
It is hoped the PC-based game will serve as a cheaper and more effective alternative to existing treatments, with patients able to play at home.
The project received a £1.5m grant from the Health Innovation Challenge Fund, a partnership between the Wellcome Trust and the Department of Health, to allow further development.
'Trapeze artist'
One patient, who suffered a stroke in February, said the game was "something different which encourages me to keep going with my therapy".
Danny Mann, 68, from Dudley, Northumberland, said the game compared favourably with the "dull" exercises he had previously been instructed to complete.
"This is the first time I've ever played a video game - I mean, I don't even own a computer.
"When I got the controllers I tried being a trapeze artist - something I never expected to try at my time of life," he said.
Mr Mann said he was looking forward to furthering his recovery by playing the game with his grandchildren.
Janet Eyre, Professor of Paediatric Neuroscience at Newcastle University, said the game would help meet the shortfall of trained therapists who stroke victims must normally work with on a frequent basis as part of their rehabilitation.
"With our video game, people get engrossed in the competition and action of the circus characters and forget that the purpose of the game is for therapy."
Professor Dame Sally Davies, chief medical officer and chief medical adviser at the the Department of Health, said the newly-developed technology was a "remarkable innovation in the NHS".
"The government is committed to supporting such work and bringing breakthroughs from every area - even video gaming - to the front line of patient care," she said.
Circus Challenge becomes more difficult as players gain more strength as their recovery progresses. The tasks require both gross and fine motor skills and can be performed by people in wheelchairs.
About 80% of stroke patients do not fully regain their arm and hand functions, however it is hoped there will be some improvement on this figure as patients are able to continue their rehabilitation at home.
In the UK, 150,000 people suffer a stroke every year, costing the economy an estimated £4bn in care and loss of income.