Horden shooting family in gun control law petition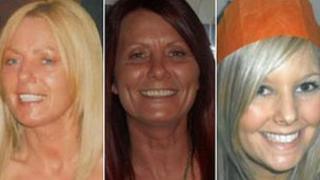 A Durham man at the heart of a family shooting tragedy is petitioning the government to introduce tougher gun control laws.
Rob Turnbull's ex-wife and daughter were killed by Michael Atherton, who also killed his partner Susan before turning his gun on himself in Horden.
The petition calls for a single system for issuing gun licences as well as more co-operation between authorities.
Atherton held a valid licence to own six guns at the time of the shooting.
Alison Turnbull, 44, Tanya Turnbull, 24, and Susan McGoldrick, 47, were shot dead at their home on 1 January 2012. Ms McGoldrick's daughter Laura was also injured after being struck by shotgun pellets.
The Independent Police Complaints Commission (IPCC) is looking at all aspects of firearms licensing matters focusing on the circumstances surrounding the granting of shotgun and firearms licences to Mr Atherton following his initial applications in 2007 and 2008.
It is also looking at any subsequent reviews of Mr Atherton's licences by Durham Constabulary.
Durham police have since confirmed that officers were called to attend domestic incidents at the family home on four occasions between 2002 and 2004.
'Too many loopholes'
An e-petition has been created calling on the government to ensure that different police constabularies work together more closely when granting firearms licences.
The campaign also calls for closer co-operation between the police and health authorities in order to prevent individuals with a history of mental illness from accessing guns.
Mr Turnbull told BBC Newcastle that the objective of the petition was to try to prevent similar incidents from taking place in the future.
"There are too many different loopholes and laws in different parts of the country. There should be one set of rules. Anybody with any history of domestic violence should never be granted a gun licence," he said.
The petition has so far received more than 240 signatures.
Easington MP Grahame Morris called for a wider public debate over gun licensing procedures in the wake of the shooting.
Mr Morris stopped short of calling for the introduction of any new laws, however, saying that any change in legislation was "a matter for parliament and government following a sober review of the current protections".