Northumberland trio's challenge to kayak around Britain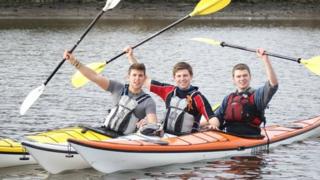 Three men from Northumberland have set themselves a challenge to kayak anti-clockwise around Great Britain in 90 days to raise £10,000 for charity.
Going by the name Land on our Left , brothers Craig, 22 and Stuart Leslie, 20, from Newbiggin-by-the-Sea and friend Lee Wilson, 20, from Ashington, will paddle 2,600 miles (4,184 km) around the coastline.
The trio have been paddling together for about five years after joining Wansbeck Paddle Sports Club, but this will be their biggest challenge to date.
Craig Leslie said: "The tide combined with the close proximity to each other will be the most challenging - but it is important to get on the water with people you know.
"I think the hardest part is going to be the mental aspect - long days of paddling forward can be boring and monotonous. Getting over that barrier is going to be a challenge.
"Me and my brother are renowned for fighting but we should be used to dealing with each other by now."
'Wind against tide'
Stuart Leslie said the idea for the challenge came from an "inspirational" presentation given by the current record holder, Marcus Demuth, who completed the circumnavigation in 2010 in 80 days.
The men, who will each paddle their own kayak, believe this is the first time anyone has done it anti-clockwise.
To train for the trip, the men have been doing weight training to build up their muscles and increase their body size as they will lose a lot of weight when at sea.
Stuart said: "This is something that is a real challenge to all of us; we know that we will be taking risks and making sacrifices but once we have achieved our goal we'll feel amazing."
To complete the challenge in the set timescale, they will paddle about seven to 10 hours per day depending on the tide and winds.
Anne Young from the Maritime and Coastguard Agency said it would be a "real challenge" for the group as there is a "degree of luck" required with weather conditions.
She said: "Going against the prevailing wind direction means that they will be paddling into the wind a lot of the time on the western side of Britain.
"Wind against tide means rougher sea state and hence more difficult paddling conditions."
By breaking the record, the group are hoping to raise £10,000 for three North East charities - Keyfund, the Children's Heart Unit Fund (CHUF) and Kidney Research UK.
Craig said: "I am most looking forward to getting back. I think it will be a real novel thing returning to the same spot after being around the whole country."
The three men will be waved off by friends and family as they begin their journey on Saturday at 09:00 BST from Newbiggin-by-the-Sea beach.