Stolen dumper trucks 'taken into Northumberland'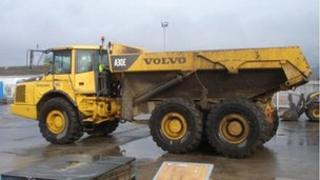 Two yellow 35-tonne dumper trucks have been stolen in Scotland and taken into Northumberland, police say.
Northumbria Police said the pair of Volvo trucks had been taken from an opencast site in Crossgates, Fife.
Fife police say they were taken on two red and white low-loader trailers, heading in convoy on to the A1 towards Berwick.
Northumbria Police said the vehicles would have been "fairly noticeable".
Anyone who saw the two dumpers being transported or has information is being asked to contact police.