Newcastle arson attack hostel to reopen after refit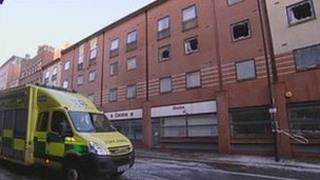 A young people's hostel in Newcastle is officially reopening 18 months after it was badly damaged by arson.
The fire left some of those staying at Tyneside Foyer with only the clothes they were wearing at the time.
The accommodation and training complex, for 16 to 25 year olds who would otherwise be homeless, has now had a £3.2m refit.
Following the fire in January 2011, a 17-year-old was convicted of arson and sent to a youth offenders institution.
'Pop in'
The Foyer is run by Stonham, the care and support division of Gosforth-based social housing provider Home Group.
Civic dignitaries are attending an open day later, with members of the public also invited to visit.
Les Woodward, from Home Group, said: "On the day of the blaze we received a great deal of support from the local community.
"We had businesses and local groups providing clothes and food to our clients.
"The open day will mark the official opening of the Foyer and we'd love to see as many local people as possible pop in to see how the building has been transformed and chat to some of the staff and clients about the work we do here helping to transform the lives of young people through support and training."