Teenage stroke victim Jess Colborn receives award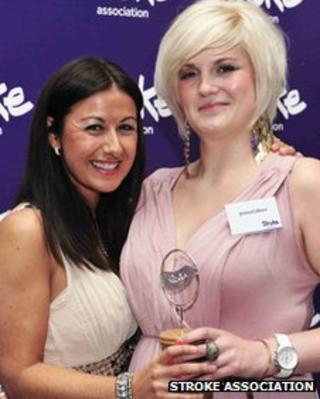 A teenage stroke survivor from Northumberland, who carried the Olympic torch, has received an award.
Jess Colborn, 19, from Hexham, suffered left-sided paralysis and right-sided facial palsy after having a stroke in May 2010.
She was awarded the Young Person's Courage Award at the Life After Stroke Awards in London.
Miss Colborn carried the Olympic torch at about 18:30 BST on Friday in Newcastle city centre.
She said she suffered her stroke on the day she went to the Northumberland County Show.
"I woke up with a headache and dull pain in the back of my head, but it wasn't going to spoil my and my boyfriend Nathan's annual trip," she said.
"I took painkillers and blamed the mix of sunshine and alcohol for what became a migraine. Lots of people noticed my slurred speech, but we all thought I was just drunk."
'Immensely happy'
The pain got worse throughout the day and the following morning she could not lift her head or walk.
She added: "I tried to speak but my tongue felt huge in my mouth and I kept slurring simple words, so dad rushed me to Hexham General Hospital.
"The left side of my face was weakened now, and I kept pulling funny faces with my lips."
The teenager was sent for an MRI scan at Newcastle General Hospital which revealed a cavernoma, a mass of blood vessels in the back of her brain which had burst and bled.
After an operation to stem the bleeding, she spent five months unable to move her left side or the right side of her face.
After months at Walker Gate Park rehabilitation centre in Northumberland she managed to go for a walk, wash herself and make cups of tea.
She hoped to run the Great North Run before becoming pregnant, but she has now passed that job to her boyfriend.
The mother-to-be is now helping with the charity's campaign to educate about stroke prevention and is looking to study dentistry at university.
She said: "This is a great platform to increase the profile of younger stroke survivors.
"I'm volunteering for Stroke Association in the North East to make people aware that strokes can happen to people at any age.
"If I can help one young person recognise the signs of stroke I will feel immensely happy."