Farne Islands no-fly zone to protect kittiwakes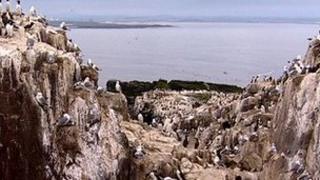 The RAF has agreed to enforce a temporary no-fly zone over the Farne Islands, off Northumberland, to protect a colony of breeding seabirds.
It follows claims that low-flying jets on a training exercise recently led to mass panic, with kittiwake chicks falling into the sea and drowning.
The National Trust, which manages the islands, said it had been working with the MoD to investigate the incident.
A no-fly zone has been put in place for the remainder of the breeding season.
The MoD had earlier confirmed it was investigating, and would be taking appropriate action.
'Long-term solution'
In a statement, the National Trust said: "The RAF have been very helpful and supportive and have worked hard to find a quick solution.
"We can now confirm that a no-fly zone is now place around the islands for the remainder of this year's breeding season and the colonies are therefore no longer at risk.
"The National Trust and the RAF will continue the dialogue to ensure a long-term solution is in place for future years."
The islands are home to an estimated 80,000 breeding pairs of kittiwakes, which build nests on the cliffs to avoid predators.