North East health workers strike over travel pay cuts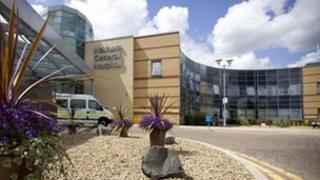 Health workers in the north-east of England are on strike over changes to their travel costs.
Staff from Northumbria Healthcare Trust are taking industrial action over the trust's decision to almost halve their travel reimbursement rate.
George Barron, Unison branch secretary said it would leave many members of staff "massively out of pocket".
A spokesman for the trust said the revised travel reimbursement "adheres to national terms and conditions".
In a recent ballot, 88% of staff backed industrial action.
They are on strike for half a day on Thursday and are taking part in a mass rally outside Hexham General Hospital.
Unison regional organiser, Keith Blackburn, said "Unison is being inundated with calls from furious members, and the morale of community based staff has plunged.
"Unison believes that trust management made a huge misjudgement in terms of the hardship that this will have upon our members.
"We call upon Northumbria Healthcare NHS Foundation Trust to abandon the unilateral imposition of this cynical policy, and engage in meaningful negotiations with trade unions."
Efficiency savings
The staff affected transferred in from the North of Tyne PCT, Newcastle PCT and Northumberland Care Trust last year and mainly perform community based roles such as occupational therapists, social workers, community nurses and health visitors.
The trust is almost halving the travel reimbursement rate from 47p a mile to 24p a mile for those staff who are required to use a car in order to carry out their job and choose to use their own vehicle.
The trust said employees who wish to remain on the 47p reimbursement rate can only do so by taking a lease on a commercial scheme through the trust.
Ann Stringer from the trust, said: "We have a duty as a public sector organisation to deliver the best value for money for taxpayers and make efficiency savings where possible which are reinvested into patient care.
"The revised travel reimbursement for staff who use their own cars for business covers the incremental cost of additional miles and, along with the offer of a lease car, adheres to national terms and conditions for staff working in the NHS.
"The implementation follows lengthy consultation with trade unions and we will continue to work with them."