Judith Richardson killing: Graeme Jarman denies murder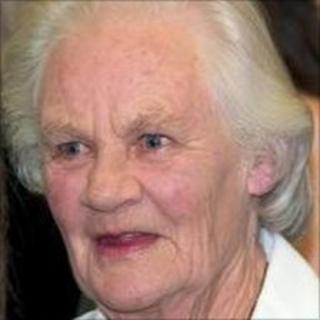 A man accused of bludgeoning a pensioner to death before burgling her home said he found her handbag after it was left by her killer.
Graeme Jarman, 48, from Consett, County Durham, denies murdering Judith Richardson, 77, in her flat in Hexham, Northumberland, in August 2011.
Newcastle Crown Court heard she was struck as she opened her door to a caller, suffering 30 hammer blows.
Mr Jarman said he had "no idea" how his fingerprints were found at the scene.
The court heard Miss Richardson lay dying on the floor as her home was ransacked before her killer repeatedly struck her again before leaving, fracturing her skull.
The court heard a transcript of Mr Jarman's police interviews in which he admitted taking her handbag after she was killed, but strongly denied her murder.
He told detectives: "I picked the bag up after she was murdered because the people who murdered her had left it."
Jurors were told his fingerprints were found at the scene.
"I've never been inside her house and where you've managed to print from I have no idea," he told officers during interviews read to the jury.
"The truth is I didn't murder, kill or interfere in any way at all with Judith Richardson under any circumstances."
The prosecution claims Mr Jarman, who was sleeping rough at the time, tricked his way into the pensioner' s flat using Age UK charity leaflets.
He used buses and a taxi to visit various towns in the region shortly after Miss Richardson's death in what the prosecution claim was a bid to throw away evidence and change his appearance.
But Mr Jarman claimed his frequent changes of clothes, which he left in litter bins after he had worn them, were due to a medical condition that induced profuse sweating.
The trial, which is expected to last four weeks, continues.