Countdown begins to Lindisfarne Gospels Durham arrival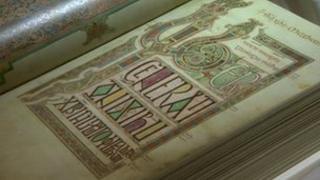 A 12-month countdown until the arrival of the 1,300-year-old Lindisfarne Gospels in Durham begins on Monday.
After years of campaigning, the manuscript will come back to the North East and go on display at Durham University in 2013 for three months.
Gospels, created by monks on Northumberland's Holy Island in AD700, are currently in the British Library.
On Monday the newly formed Lindisfarne Gospels Community Choir performs at the cathedral to kick off the countdown.
The Gospels were carried for 200 years around the region together with the body of St Cuthbert before reaching Durham in AD995, where they remained until the Reformation.
A spokesman for Durham University said: "Containing the works of the four evangelists, Matthew, Mark, Luke and John, the Lindisfarne Gospels recount the life and teachings of Jesus Christ.
"They represent both the core of Christian belief and, in their creation, one of the greatest landmarks of human cultural achievement.
"The exhibition will explain exactly how and why this masterpiece was created."