Bomb death soldier's parents 'proud'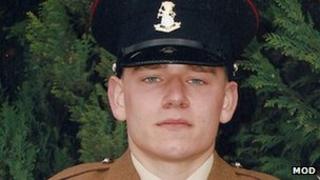 The parents of a 19-year-old soldier from Darlington killed in Afghanistan have spoken of their pride following an inquest into his death.
Pte John King was killed by an explosion during fighting in December last year.
He triggered the blast after he crossed a stream while a patrol of 15 soldiers were under attack.
After an inquest at Chester-le-Street, his father Barry said: "We are just so proud."
The inquest heard the group had crossed the stream using ladders so they could get two snipers into position.
Sniffer dog
They were trained to know that the Improvised Explosive Devices (IEDs) would be placed around the stream at likely crossing points.
Moments after crossing on the ladders, Pte King triggered a bomb placed less than 3ft from the stream.
A specially-trained explosive sniffer dog had not detected the bomb after she crossed the ladders, her handler Corporal Garry Pegg told the inquest.
A post-mortem examination revealed Pte King died due to blast injuries to his lower limbs.
Coroner Andrew Tweddle ruled that Pte King was unlawfully killed while on active service in Afghanistan.
Mr King said: "We would like to thank the Army and everyone in Darlington for their best wishes."
Pte King had joined the 1st Battalion The Yorkshire Regiment 18 months before he died on 30 December.