Northumbria Police plug Olympic security gap left by G4S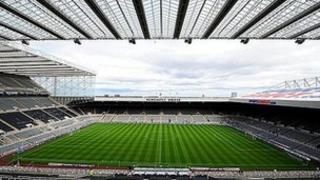 Northumbria Police officers have been called in to provide extra Olympic security after private firm G4S failed to supply enough staff.
The company was due to have more than 50 guards on duty at Gateshead's Hilton Hotel, where Olympic football teams began arriving on Saturday.
Newcastle East Labour MP Nick Brown said only 10 turned up for work.
Newcastle United's ground is hosting several football matches, including a men's quarter-final.
The Northumbria Police Federation has described the situation as "absolutely appalling."
G4S said it hoped police officers could be withdrawn "within days".
Northumbria Police stressed that day-to-day policing would not be affected.
The issue was raised in the House of Commons by Mr Brown, who called on Home Secretary Theresa May to ensure the Northumbria force was compensated for any additional costs.
Northumbria Police Federation chairman Charlie Munro said: "It's absolutely appalling that a large company large G4S, who have had a contract for a couple of years, suddenly realise that they don't have the infrastructure in place to supply the staff for that contract."
He said he had discussed the situation with Northumbria Chief Constable Sue Sim.
A force spokesman said: "Northumbria officers are supporting venue security operations by providing officers to enhance the security arrangements in place.
"As part of our planning for the Games we have been sure to build contingency and resilience into our resourcing.
"While this deployment requires some of our officers to work on rest days, we have the capacity to meet this task and we will not compromise on keeping the streets and our local communities safe."
A G4S spokesman said: "This situation is being rectified over the coming days, which should lead to the withdrawal of police officers from those roles assigned to private security."
Meanwhile extra security is being put in place at Newcastle United's ground ahead of the first game on 26 July.
The government has been forced to draft in 3,500 extra troops after G4S said it would not have enough staff ready in time for the start of the Games.