Northern Pride move to Exhibition Park forced by weather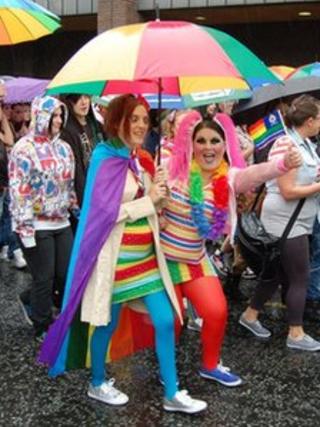 Newcastle's annual gay pride event has had to be relocated to Exhibition Park because of the weather.
Its parade normally ends at Leazes Park but there were concerns about erecting stages and tents on soft, wet grass.
The event's communications director, Mark Nichols, joked he feared "the cabaret tent would start floating" down the road.
"We thought, even if it rains all week, the event can still go ahead in Exhibition Park," he said.
'Hooting and whistling'
The parade will still start at Newcastle's civic centre at noon but will divert onto Percy Street and Claremont Road to reach Exhibition Park.
Mr Nichol said police will operate a rolling road block, closing sections of the route to traffic as the parade passes.
Drivers, often "hooting and whistling and cheering", were usually tolerant of the delay, he said.
Organisers said last year's event attracted about 16,000 people despite heavy rain and they are hopeful better weather will attract more than 20,000 this year.
Sonia and The Cheeky Girls will be performing and, for the first time, there will be a women-only area with workshops and performances from female entertainers.
"Quite a lot of pride events don't cater as well for women," Mr Nichol said, explaining some visitors feel they can be "very male orientated".
Paws with Pride - Northern Pride's gay dog show - will take place as planned in Leazes Park on 29 July.