Homes evacuated after car crashes into Northumberland house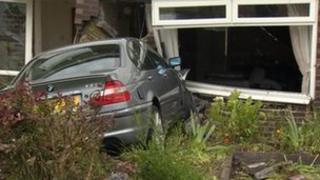 Homes have been evacuated after a car crashed into a house in Northumberland.
It happened at 05:00 BST in Spring Ville, East Sleekburn, when a BMW car left the road and became embedded into the side of the terraced house.
It caused serious structural damage to the house and neighbouring properties, but no one inside the house was hurt.
The damaged home and nearby properties have been evacuated as a precaution. Local authority structural engineers will assess the buildings.
Inquiries are ongoing to trace the two occupants believed to have been in the crashed vehicle.