Army cuts prompts protest by Newcastle veterans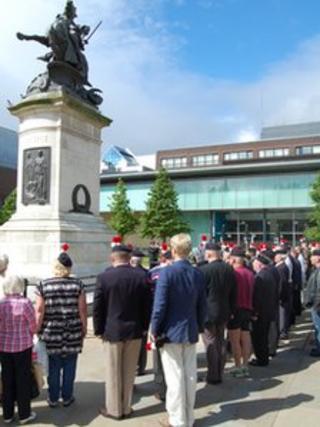 The demonstration, billed as peaceful, is just that.
By the end about 50 people are congregated at the war memorial at Newcastle's Old Eldon Square, the site of so many Remembrance Sundays, to protest against cuts to the British army.
Chatting and smiling, some are clearly veterans of conflicts, wearing medals and regimental berets.
Initially it is hard to tell if the surrounding groups of people, sitting on benches, minding children and bags of shopping, are part of the demonstration or just enjoying the sun in this leafy square. But many stand for the two minutes' silence.
The demonstration is one of more than 60 at memorials around the country objecting to plans to cut army personnel from 102,000 to 82,000.
Steve Hildrew has come to "support the lads", once one of them himself having spent 12 years with the Royal Regiment of Fusiliers.
"We're all family and we've got to show solidarity," he says. "Were not going to lie down and take it."
'Made minds up'
But Ronald Miller, with 18 years in the same regiment behind him, does not think the protests will work.
"They've made their minds up," he says, claiming southern sections of the army are being favoured over northern ones.
He does not believe the explanation he has heard - that northern regiments find it harder to recruit.
Major Chester Potts, chairman of the Fusiliers Association for Northumberland, says he is "absolutely flabbergasted" that the regiment will lose a battalion.
"We're fully recruited, we've got a superb record, we've got some great recruiting areas, probably some of the best recruiting areas in the country and, for some reason, despite the fact that other regiments are not as well recruited, we've been singled out," he says.
"In true Fusilier tradition we will go down fighting if we're going to go down."
Also protesting is the Labour MP for Blaydon, Dave Anderson, arguing the government should have made defence cuts elsewhere.
"Everything in life is about choices," he says. "They've chosen to disband this particular group of people, along with some others, and I just think they've made the wrong choice."