Newcastle science site soil 'absorbs tonnes of CO2'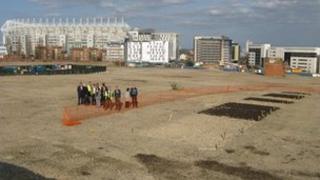 Thirty-eight thousand tonnes of carbon dioxide has been removed from the atmosphere by soil at a Newcastle city centre site, according to researchers.
They believe the science-based development, Science Central, can "capture" a further 27,000 tonnes.
They said this would equal the amount released when coal is extracted from abandoned mine workings under the site.
Project member Professor David Manning said it showed urban soil could "cancel out" carbon given off by development.
"Any carbon we release as a result of coal extraction is effectively being cancelled-out by the carbon that has been absorbed by the soil on the site," he explained.
Professor Manning led the project with PhD student Carla-Leanne Washbourne, both from Newcastle University, in collaboration with Dr Phil Renforth from the University of Oxford.
"Urban soils tend to be rich in waste materials such as concrete or metal slag that contain calcium and magnesium," he said, explaining that these minerals can in turn store carbon captured from the atmosphere.
"This means that, on sites such as Science Central, we can offset carbon-intensive development through soil engineering," he said.
The Science Central project aims to attract hi-tech firms to the site of the former Scottish and Newcastle Brewery with the creation of 1,900 jobs over the next 20 years.