Sir Bobby Robson's cancer charity legacy continues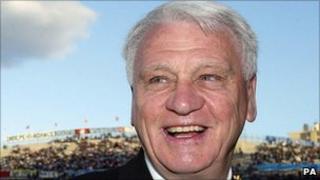 The family of football legend Sir Bobby Robson have said he would have been proud of the continuing legacy of the cancer charity he founded.
Speaking on the third anniversary of his father's death, Mark Robson said they were more determined than ever to keep it going and fulfil his wishes.
The Sir Bobby Robson Foundation has so far raised more than £4m.
Achievements include the creation of a new medical research centre at Newcastle's Freeman Hospital.
More than 1,000 cancer patients have been treated on clinical trials since the "Sir Bobby Centre" opened in 2009 and an additional 1,000 have been enrolled in other research studies.
'Taken aback'
The County Durham-born former England, Ipswich, Newcastle and Barcelona manager died on 31 July 2009 after his fifth battle against the disease.
Sir Bobby's son Mark says: "In the weeks before he died, dad said he wanted the foundation to be his legacy for other people fighting cancer.
"That's certainly what it's become and I've no doubts he'd be incredibly proud of everything we've already achieved."
He added: "My brothers, my mum and I have all been a bit taken aback by the ongoing strength of support for the foundation.
"That makes us more determined than ever to keep it going and to fulfil Dad's wishes. Each day makes us even prouder than the last."