Sir Bobby's £1m cancer treatment machine unveiled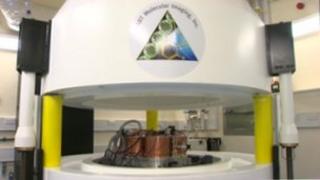 A £1m cancer treatment machine, partly paid for by the Sir Bobby Robson Foundation, has been unveiled.
The foundation contributed £625,000 for the cyclotron - the first of its kind in Europe and one of two worldwide.
Scientists at Newcastle University say the machine will "revolutionise" the diagnosis and treatment of cancer.
Professor of cancer therapeutics Herbie Newell said: "This is as much a revolution as X-ray and magnetic resonance scanning has been."
The machine will be used to put markers in the body to detect the size and location of a cancer.
More importantly, said Professor Newell, it will tell whether it the cancer is growing and whether drugs are working.
This in turn helps scientists discover which drugs are most effective.
'Fantastic legacy'
The machine creates a safe radioactive solution which can be injected into patients before a scan.
Dr Mike Carroll from the university said this will show them how much of the drug is reaching the cancer, if at all.
Liz Luff, from the Sir Bobby Robson Foundation, said the donation was the largest it had made.
"You're talking something truly world-class here for the people of the North East who are fighting cancer," she said.
"That's what Sir Bobby wanted when he launched this charity - to do something that was significant, that was going to really push the boundaries."
The machine is fully operational and is expected to be used on patients within a year.