Newcastle group aiming to change the face of graffiti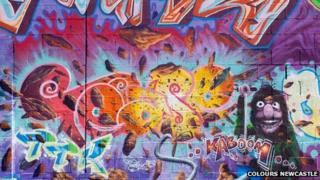 For many, graffiti is seen as an act of vandalism rather than a work of art.
But one group in Newcastle wants to change that opinion by creating colourful murals on the grey and derelict walls of the city.
Two years ago, the owner of a plastics factory on Dinsdale Place in Sandyford, gave the group of artists the permission to decorate the sides of the building.
The whole block is now covered in graffiti and Dan McConway, founder of Colours Newcastle, said the local community's reaction has been "positive".
Now, he wants the council to give aerosol artists authorised spots to create their art so they no longer have to do it illegally and in fear of the police.
'Unhappy and angry'
The 30-year-old said: "If you haven't got the choice to do it legally, then all graffiti is illegal, but this is we want to change.
"Fair enough having zero tolerance on illegal graffiti and tagging people's houses - we are not doing that.
"We are coming up with murals. We are doing a piece for a day, two days... this is stuff we work on for weeks beforehand.
"Most kids do the tags because they don't know any different. They are not given a chance, there is nowhere legal in Newcastle or the North East to go and paint so what choice do they have?"
More than 100 artists have contributed to the project since it started, with about 40 people at one time working on a mural.
However, Newcastle City Council say they have a "zero tolerance approach" to graffiti as a lot of people in the region are "unhappy and angry" when they see illegal paintings on buildings.
Currently the council spends £250,000 per year removing graffiti.
'Positive artwork'
Councillor Henri Murison said the council had tried giving artists legal spaces before but said it "did not work" as many artists said "they would always do it illegally".
Mr Murison said: "We feel that the public consensus is not for us to spend public money supporting this.
"I still believe a zero tolerance approach is the right one, but if private individuals want to do this, I can appreciate the aesthetic value of this.
"I completely appreciate there are a group of people who are in no way seeking to do this illegally and have certainly turned their back on any of that kind of activity.
"I think the problem is that there is still a lot of people in Newcastle who aren't prepared to take that path."
Mr McConway, who has been painting for 12 years, said he believed illegal graffiti would not decrease if the council did not support legal sites.
He said: "Being creative has helped me so much in my life from the negative times to the positive, I just love doing it.
"If you don't give us anywhere to paint then the culture is always going to be about illegal graffiti and never about positive artwork like what we're trying to do."