Belford Burn turns bright green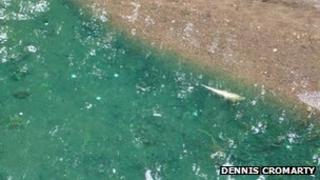 A stream in Northumberland has turned a different colour overnight.
The villagers of Belford discovered their burn had turned bright green on Monday morning.
No wildlife appears to have been harmed as a result of the colour change and tests revealed the water was not toxic.
The Environment Agency is investigating the source of the pollution and the water had returned to its normal colour by Tuesday.
'Mystery'
Resident Dennis Cromarty said: "It looked very unusual.
"We were concerned about the fish, there are brown trout in the burn and other wildlife, but there were no reports of dead fish.
"By the next day the water was clear, it is a concern and a mystery."
The Environment Agency said: "We are investigating possible sources of the pollution in order to prevent a recurrence.
"We have received no reports of fish deaths or other environmental impact and we are liaising with the local authority in the hope of tracing the source."