River Tyne Swing Bridge flood repairs delayed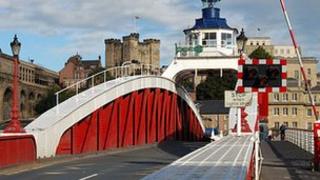 Hopes of the early reopening of a historic bridge across the River Tyne, which was damaged by flash flooding, have been dashed.
The Swing Bridge, which links Newcastle and Gateshead, has been out of action since floods on 5 August.
The crossing itself was unaffected, but an underground culvert collapsed under the road on the Gateshead side.
Northumbria Water, which is responsible for the repairs, said the bridge would not reopen until about 22 August.
'Challenging repair'
The company said repairs had been "challenging" and that it was working with Gateshead Council to get the bridge, which was opened in 1876, back into action as soon as possible.
The closure has resulted in traffic congestion at peak times on the Tyne's other road crossings.
A company spokeswoman said: "We expect repairs to the culvert and manhole chamber to be completed by the weekend.
"But then the road will have to be resurfaced, so we are looking at the middle of next week for the bridge to reopen.
"It has been a challenging repair and we are conscious that this is a Victorian asset, where care is needed."