Liam Plunkett: England bowler gets second driving ban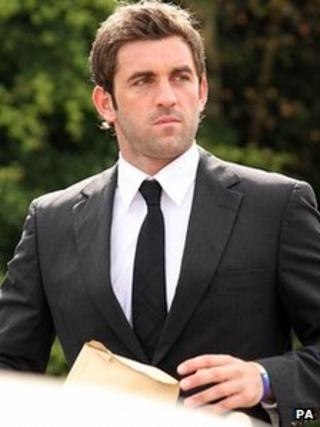 England and Durham cricketer Liam Plunkett has been banned from driving for a second time.
The bowler, who served a ban for drink-driving in 2007, was found to be more than twice the legal alcohol limit when stopped by police in July.
Peterlee magistrates heard he was driving to an all-night garage for food, having returned home from an evening out with friends, at the time.
Plunkett, 27, was banned for 40 months and fined £1,000.
The court heard he was arrested at about 3:10 BST on 28 July, after being stopped on the A690 in Durham in a Jaguar XJ.
His reading was 74mg of alcohol in 100ml of breath when the limit is 35mg.
'Completely illogical'
Blair Martin, prosecuting, said Plunkett, of Roundhaven, Durham, was stopped because his headlights were not on. He said officers also smelled intoxicants after they pulled him over.
Magistrates were told Plunkett, originally from Middlesbrough, was previously convicted of drink-driving in February 2007 and banned for 20 months.
Mark Haslam, defending, said: "His decision to drive was completely unjustified and completely illogical.
"He has been in this position before, he should have known better."
Mr Haslam said his client's financial circumstances were worse than in 2007 when he was regularly playing for England and his county.
His last appearance for England was in a one day international against Australia in February 2011.
Jeff Gray, chairman of the bench, said Plunkett would have to pay £100 costs on top of the fine.
Plunkett is recovering from an Achilles injury which prevents him from playing.