Olympians join Matt Wells to row on the Tyne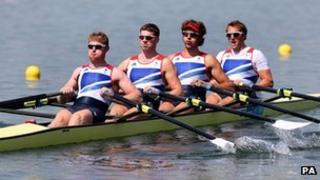 Olympic rower Matt Wells will be joined by nine other rowing Olympians to race in a special regatta on the River Tyne at Hexham, Northumberland.
They will compete in the Matt Wells 2012 Jubilee Sprint Regatta, on 18 August.
The race will mark Wells' retirement from international competitions and the launch of the Matt Wells Foundation.
Wells aims to raise money through the foundation to support young local athletes keen to follow in his wake.
In doing this, 33-year-old Wells feels the profile of rowing in Hexham and the North East will benefit.
"My sport has been good to me," said Wells.
"Thanks to rowing, I have visited five continents and competed in four Olympic Games - and enjoyed many exceptional experiences including winning medals and meeting royalty.
"But none of this would have been possible without the efforts of my club, and the coaches at Queen Elizabeth High School."
Despite a number of notable successes on the water in previous years, the 2012 Olympics were not to be a perfect swan-song for Wells.
Rowing in the Great Britain Quad sculls team - they came fifth - Wells was not able to emulate some of their other medal winning team members.
Joining Wells in the Olympian lineup in Hexham on Saturday will be:
Olympic Bronze Medal winner, Alan Campbell
Marcus Bateman
James Foad
Matt Langridge
Stephen Rowbotham
Former German rowing legend Christian Schreiber
Cedric Berrest
Julian Bahain
Kaspar Taimsoo
Organisers hope that Jessica Eddie and Olivia Whitlam, together with two British gold medallists Kat Copeland and Sophie Hosking, will also attend.
Event chairman Alex Waters said: "Although this day is Matt's way of saying farewell to international competition, he is doing it in style with an event on a scale never before seen in this, or any other, region."