Ancient woodland in County Durham to be revived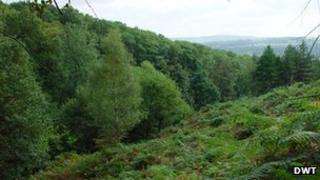 More than 1,000 tonnes of trees are to be removed to allow ancient County Durham woodland to thrive.
The conifer trees and non-native broadleaves will be removed at Milkwellburn Wood nature reserve, near Blackhall Mill.
Durham Wildlife Trust said it would allow native trees and wildflowers to regenerate from seeds lying dormant in the soil.
It said some areas had been continuously wooded since 1600.
The trust bought the previously commercial woodland in July 2010 with the aim of turning it into a nature reserve and this is the first stage in the process.
Wild Woods project officer Fran Mudd, said: "Milkwellburn Wood is very special as it contains areas of ancient woodland that have been continuously wooded since at least 1600 AD.
"Ancient woodlands are one of our most valuable and rich wildlife habitats as complex ecological connections have been allowed to form over long periods of time. However, they are very rare, covering less than 2% of the UK's land surface."
She said that after World War II much of the wood was felled and replaced with conifer trees to be used as a resource and they had shaded out native flora.