Tony Scott's 'loud' influence remembered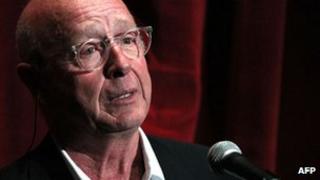 Tyneside Cinema's chief executive has spoken of his shock at the death of Hollywood film director Tony Scott and paid tribute to his "loud" influence.
Scott, 68, who was born in North Shields on Tyneside, died on Sunday after jumping from a bridge in Los Angeles, authorities said.
His great uncle Dixon Scott opened the Tyneside Cinema, known then as Newcastle News Theatre, on 1 February 1937.
Tyneside Cinema's Mark Dobson said he was saddened to learn of Scott's death.
"We are very shocked, I think it is shocking when everybody takes their life in such extraordinary circumstances, it was very shocking news to hear that this morning, very, very sad.
"We have an historic link to the Scott family in that their forebears built the Tyneside Cinema and they are from the region.
"So for us, a little bit of extra sadness in that sense and our thoughts go out to them [his family]," Mr Dobson said.
The Scott family are thought to have travelled around the North East when the Scott brothers were children, spending some time living in Tees Valley near Stockton.
Tony and fellow film director brother Ridley both studied at an art college in Hartlepool.
Ridley's first film, Boy and Bicycle, starred 16-year-old Tony as a schoolboy playing truant for the day in Hartlepool.
Made in 1962, the film starred the whole Scott family.
Tony Scott shot to fame in the 1980s with a string of action films.
He was famous for his fast-paced blockbusters and the distinctive style of his films.
His most well-known films included Crimson Tide, Days of Thunder and Top Gun.
Mr Dobson said: "I remember being really struck at the time by Top Gun and the fact he had managed to make an action film that more women wanted to see than men.
"He had a very big loud one [influence], his films were not subtle and he made some remarkable blockbusters.
"He tended to actually shy away from digital effects - so if he wanted to crash trains into things, he tended to crash trains into things, which kind of stood him out significantly, I think.
"There is certainly quite a legacy there for him."
Mr Scott was married three times and had twin sons with his third wife, Donna Wilson.