'No bananas' for John Robertson in his third Paralympics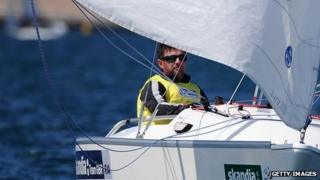 Two moments in John Robertson's life sealed his future as a Paralympic sailor.
The first was 30 years ago when his father Ian took him sailing around Sunderland's coast.
Not reservoirs and lakes, Mr Robertson senior once stressed. They were not "pond sailors", frightened of "going down the plughole" - they sailed the sea.
The second was in 1994 when Robertson, then in his early twenties, had a motorbike accident which left him paraplegic and in a wheelchair.
His father believed sailing provided the reason to carry on, for which he admired his son and his "great courage and fortitude".
Robertson sailed, his talent was spotted and, now 40, he is facing his third consecutive Paralympics.
Disappointing results in the Athens and Beijing Games have left him only determined to do better.
'Little spooky'
"Medalling at our own home Games would be very special," he said. "But to win - well I couldn't put that into words.
"But we're under no illusion - it's going to be tough."
As skipper and helm of the Sonar class, Robertson has had the same crew for a decade - Hannah Stodel from Essex and Stephen Thomas from South Wales.
"We're a close knit team," he said. "We actually spend more time together than many a married couple.
"We all think in the same way and it's a little spooky at times when, in the heat of competition, you find you're already doing what the other person's thinking."
Proof that it works, their successes in 2012 alone include four golds and a silver in various regattas and competitions.
'No bananas'
However, Robertson and his crew are well acquainted with the strengths of their opposition.
He thinks the Dutch, French, Israeli and Norwegian crews are "very strong" and is prepared for surprises like the Canadians.
Robertson thinks his ability to keep focused is his greatest strength, along with "practice, practice, practice".
"Training and preparation is seven days a week and on top of all the physical stuff, we've the boat preparation too," he said.
"We take care of our boat ourselves and spend many hours polishing and fine tuning it - we're not in the footballer's league and have our boots cleaned for us."
As well as the vigorous training, Robertson is employing a couple of old superstitions in his attempt to break his crew's run of poor Paralympic medal performances.
"There'll be nothing green on the boat," he insisted. "And, following that old sea-faring superstition, there'll be no bananas."