Berwick maternity unit closure: Protest march on Saturday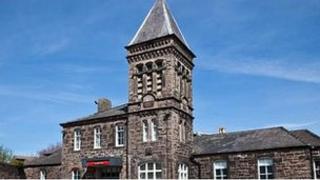 Hundreds of campaigners are expected to attend a march on Saturday about the closure of a maternity unit.
The unit at Berwick Infirmary closed earlier this month because of a big fall in births - only 13 babies were born there in the past 12 months.
The unit is midwife-led and cannot deal with "high-risk" births. The nearest consultant-led unit is Borders General in Scotland, 40 miles (64km) away.
Northumbria Healthcare Foundation Trust said the closure was being reviewed.
The protest march will take place in the town on Saturday.
'Isn't acceptable'
The trust said the closure was temporary and it was talking to local women about their needs.
But campaigner Chris Hart, whose wife Josephine had to travel to Scotland to give birth to son William, said if the unit was consultant-led more women would choose to give birth in Berwick.
He said: "Basically if you are not in perfect health and it is your first child you are classed as high risk, so my wife couldn't have our baby in Berwick.
"If the NHS was to fund a couple of doctors in Berwick, I believe that 90% of mothers in Berwick would have their babies there."
Liberal Democrat MP for Berwick Alan Beith said expectant mothers were having to travel too far to give birth.
He said: "Ashington is 50 miles away from Berwick and the Borders General is 40 miles away.
'Temporary closure'
"If it is an issue of consultant support, the trust should have consultant support.
"It really isn't acceptable that mothers have to travel 50 miles away and they are being advised to do so which is what is clearly happening."
In 2011, 23 babies were born at the hospital.
A trust spokesman said: "We are very aware of the strength of public feeling in Berwick and want to reassure people that this temporary closure is so that we can address our immediate safety concerns.
"The extremely small number of births at Berwick and recent safety incidents gave us enough cause for concern to take immediate action."