Housing plan near Rising Sun Country Park rejected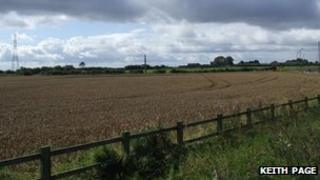 Plans for 450 houses next to parkland in North Tyneside have been rejected by councillors despite backing for approval by planning officers.
Northumberland Estates wanted to build the homes on Scaffold Hill near Holystone, next to the 400-acre Rising Sun Country Park.
Objectors claimed this would affect wildlife in the park, have a visual impact and lead to traffic jams.
The developers planned to extend the park and said the site was well placed.
Keith Page, of Holystone Action Group, said the park was "the jewel in North Tyneside" and should be protected.
'Gift wrapping'
"We accept that there needs to be housing, of course there needs to be housing," he said. "It's just this particular site was inappropriate."
He added the plans "would block completely the wildlife corridor" and suggested there were more appropriate brown field and green field sites elsewhere in the borough.
He described attempts by Northumberland Estates to address concerns and extend the country park as "gift wrapping".
Northumberland Estates has not commented on the decision but its development director, Colin Barnes, earlier said the planned housing would have been well located near jobs and transport.
He also said the company intended to minimise the impact on the park by adding 100 acres of landscaped land.