South Tyneside Council to lose another 350 jobs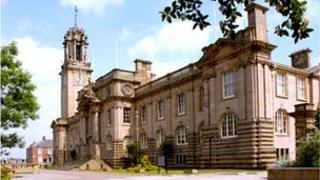 South Tyneside Council is shedding 350 further jobs over the next two years.
The council said it was facing "unprecedented cuts in government funding" but was committed to protecting front-line services and jobs "as far as possible".
More than 1,200 jobs have been cut at the council since 2010, through natural wastage or voluntary redundancy.
The Unison union said avoiding compulsory redundancies was getting "harder every time".
Merv Butler, the union's South Tyneside branch secretary, said: "We've done a really difficult job of managing this over the last three years.
"My concern is that we're now down to a very core nature of a workforce here in South Tyneside and it is very difficult to find volunteers as we go forward."
Ed Malcolm, lead member for resources and innovation at the council, said: "Councillors and officers have tried to ensure that changes are made with as limited [an] impact on staff as possible, through stringent management of vacancies, early retirements and voluntary redundancy."
Mr Butler said that, although there was pressure on staff to "continue to provide the best possible service", the impact on services was already evident and would "only continue that way".