Northumbria Healthcare Trust staff in travel pay strike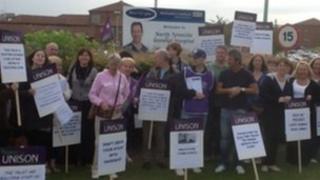 Health workers in the north-east of England are staging a further strike over changes to their travel pay.
Staff at Northumbria Healthcare trust are taking industrial action over the trust's decision to almost halve their travel reimbursement rate.
The trust said it had offered a temporary compromise and was disappointed it had not been accepted.
The union's regional negotiator Lynne Robson said it had been "inundated" with calls from "furious members".
Compromise rejected
"Unison believes that trust management made a huge misjudgement in terms of the hardship that this will have upon our members," she said.
Unison members are staging a lobby at North Tyneside General Hospital.
The staff affected transferred from the North of Tyne PCT, Newcastle PCT and Northumberland Care Trust last year and are mainly occupational therapists, social workers, community nurses and health visitors.
The trust is reducing the travel reimbursement rate from 47p a mile to 24p a mile for those staff who are required to use a car for work and choose to use their own.
It said employees wanting to remain on the 47p reimbursement rate must take a lease on a commercial scheme through the trust.
Chief operating officer for Northumbria Healthcare NHS Foundation Trust Ann Farrar said: "As a compromise, we made a further offer to protect mileage payments for community staff at 37p per mile until March 2013.
'Financial strains'
"The NHS is facing one of the toughest periods in its financial history and as a trust we must save over £15m in this financial year alone."
Unison branch secretary George Barron said: "We understand the financial strains that the NHS is under to find unprecedented levels of efficiency savings.
"However we cannot accept the trust's attack upon our members which will leave many massively out of pocket."
A further strike is planned for 30 August.