Berwick maternity unit closure prompts protest march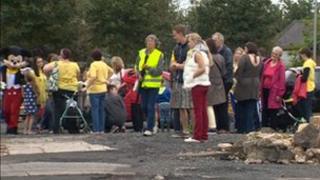 About 200 people have protested against the closure of a maternity unit.
The unit at Berwick Infirmary closed earlier this month after the number of babies born there per year almost halved, from 23 to 13.
The unit is midwife-led and cannot deal with "high-risk" births. The nearest consultant-led unit is Borders General in Scotland, 40 miles (64km) away.
Northumbria Healthcare Foundation Trust said the unit was under "urgent" review and the current closure was temporary.
Campaigner Chris Hart, whose wife Josephine had to travel to Scotland to give birth, said more women would be able to give birth in Berwick if the unit was consultant-led.
He said: "If the NHS was to fund a couple of doctors in Berwick, I believe that 90% of mothers in Berwick would have their babies there."
'Safety concerns'
Liberal Democrat MP for Berwick Alan Beith said expectant mothers were having to travel up to 50 miles to give birth.
"If it is an issue of consultant support, the trust should have consultant support," he said.
Campaigners hope to persuade the trust to reopen the unit as soon as possible.
Janice McNichol, head of midwifery at Northumbria Healthcare NHS Foundation Trust, said: "We realise the temporary suspension of some services at Berwick Maternity Unit has caused concern locally, however people must appreciate that when we have genuine safety concerns we cannot ignore them.
"All midwives must be able to regularly practice in order to keep their skills up to date and because of the lack of births this simply wasn't happening in Berwick.
"We're now making sure our Berwick midwives get a chance to practice in our busier unit in Wansbeck while we carry out an urgent internal review."