Jessie J plays rescheduled Alnwick Castle concert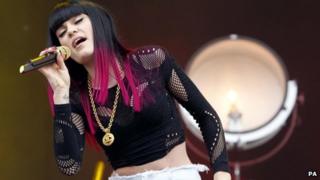 Pop star Jessie J has finally performed a rescheduled concert at Northumberland's Alnwick Castle.
She was meant to appear before an estimated crowd of 12,000 in July, but pulled out after being hit by a virus.
The singer was also forced to pull out of Ponty's Big Weekend in Pontypridd, south Wales.
Keith Louch, director of organisers KAL Music, said: "She's probably got the highest profile of any British artist, so we were very lucky to get her."
He said he had been speaking to her management every day before the concert and they assured him she would be coming up.
People who could not go on Saturday night received refunds, meaning the crowd was about 1,000 fewer than it would have been in July.