North East Enterprise Zone to be extended, says Osborne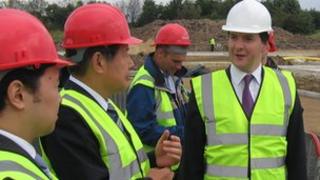 The North East Enterprise Zone, designed to encourage private sector growth, is to be extended, the chancellor has announced.
George Osborne announced the 40-hectare extension of the zone on a trip to Sunderland where more than 80 jobs are being created by a warehousing firm.
Vantec Europe, which announced 230 jobs in April, said an additional 81 jobs would be created.
The jobs come after it won contracts from local companies, including Nissan.
Tax breaks
The company is building a 421,000 sq ft building at Turbine Business Park and employs more than 800 people in North East England and said it would create the 311 jobs, by 2015.
It was awarded £2.7m from the Regional Growth Fund and the development is part of the Enterprise Zones scheme.
Mr Osborne also announced extra tax breaks for businesses in the zone as he extended the enterprise zone to attract new firms to the North East.
He said: "What I've seen with my own eyes today at Vantec shows that it is a success. I can confirm that the government will offer new tax breaks for an additional 40 hectare site - provided a local agreement can be struck in the next 12 months."