Crook's 1930s death riddle solved by Australian sleuth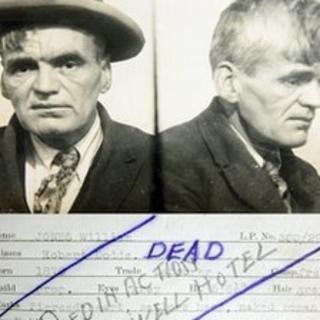 The mystery of why a museum mugshot of a 1930s criminal was marked with the words "died in action" has been solved by an Australian sleuth.
The ageing snap of William Jones was found in a police identification book which was donated to Tyne and Wear Archives after being discovered in a junk shop.
It was marked with the words "Died in action: Benwell Hotel", but no other details apart from the fact Jones had spent 14 years in prison for a street shooting in Chicago, and had then been deported from the US.
Archives manager Carolyn Ball said: "We were intrigued but were unable to find any records under the name William Jones or his alias Robert Dodds.
"No other clues to the nature of his death are included in the notes, but his crimes included a conviction for a shooting.
"He was also said to have played a violin outside public houses."
To try to shed some light on the mystery, Ms Ball uploaded the image to the photo-sharing website Flickr.
Denise Murphy, from Australia, spotted the mugshot and did some of her own research.
She found an article from The Times from 30 August 1932 about a man killed in a roof fall following an attempted break-in at the hotel in Newcastle.
Fractured skull
Ms Ball said: "The name of the man was different, a William Hall, but the other details of the story seemed to fit.
"We then found the coroner's report into Hall's death and were able to confirm that it was in fact the same man.
"Without Ms Murphy's assistance we wouldn't have known about the third alias and would not have been able to solve the mysterious death."
Staff from the archives researched the story further and found an article from the Evening Chronicle, dated 29 August 1932, which gave more dramatic detail.
It told how Hall and his accomplice James Biscoff Whitehead tried to break into the hotel through the glass roof of a toilet but were spotted by police.
A rooftop chase followed during which Hall threw slates at police.
He eventually lost his footing and fell, fracturing his skull, the article reported. He was taken to Newcastle's Royal Victoria Infirmary where he was pronounced dead.
Ms Ball said: "It is amazing that the lead which helped us came from the other side of the world.
"This just shows the importance of using online resources such as Flickr to open up our collections and share them, not just locally but internationally."