Royal Teas in Stanhope plays national anthem for last time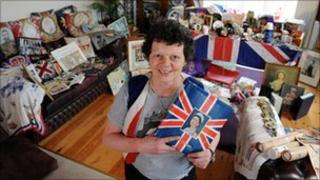 A tearoom that attracted international attention when customers were asked to leave for refusing to stand for the national anthem is closing.
Royal Teas in Stanhope, County Durham, welcomed visitors from around the world after three pensioners snubbed its daily ritual in May.
The shop held a party on Friday when God Save The Queen was played for the last time at 15:00 BST.
Owner Anita Atkinson said the business was always intended to be temporary.
She said: "It was something unique to celebrate the Diamond Jubilee. We're expecting our second grandchild on 20 September in London and that's much more important than a royal tearoom."
'Basil Fawlty'
Ms Atkinson has been overwhelmed by the number of customers visiting the shop, which is covered in her royal memorabilia.
"It's been absolutely manic at times," she said.
"I've found myself turning into Basil Fawlty and insulting people left, right and centre because I was so stressed at the amount of people queuing up to get in.
"We've had fanatical royalists come in and people just coming for the fun. We've even had republicans in there."
Ms Atkinson admitted there would be tears when the shop closed for the last time but insisted it had been a learning curve for her.
She said: "This is the first time ever I've worked in a shop. I've got no idea of customer service whatsoever."
Royal Teas made headlines around the world after the incident in May when three women were asked to leave.
Ms Atkinson said: "We have a visitor book that is absolutely jam-packed full of people from all over the world. We had a lady in a fortnight ago who told me she'd seen it on television in Botswana.
"They've come from Sri Lanka, from Malta and India, from all different Commonwealth countries."