Morpeth campaigners protest over traffic lights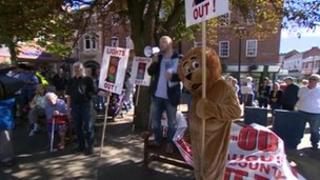 Hundreds of people have marched through a Northumberland town in protest over controversial traffic lights installed by the council.
The lights were installed at the junction of Telford Bridge in Morpeth to cope with expected additional traffic when a new supermarket opens.
But campaigners say they have made traffic worse and they want changes.
Northumberland County Council said it would work with a traffic management expert to find the "best way forward".
The campaign group, Lights Out, also handed in a signed petition, with about 2,000 signatures to County Hall.