Tyne Tunnels name switch honours wheelchair athletes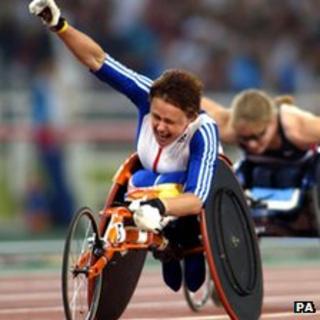 Road tunnels under the River Tyne are undergoing a name change in honour of the world's best wheelchair athletes.
The two Tyne Tunnels are being renamed for the first time in their history during September to mark the annual Tyne Tunnel T2K wheelchair race.
The event takes place on 14 September and both tunnels will undergo daily name changes up until 9 September.
Athletes to be honoured include Dame Tanni Grey-Thompson, Josh Cassidy and Jade Jones.
Chief executive of tunnels operator TT2, Rachel Turnbull, said: "We are immensely proud of the annual Tyne Tunnel 2K wheelchair race.
"It is a world class event that allows the very best international wheelchair athletes to show off their talents right here on Tyneside.
"This will be their first chance to showcase their competitive abilities after the games, and it's fantastic that the Tyne Tunnels will be the venue.
"We hope what we're doing will raise awareness of our wheelchair race, and get people thinking about what it would take to propel yourself through one of the tunnels in a wheelchair."
Tunnel electronic display boards will display the names of the athletes.
The original Tyne Tunnel opened in 1967. The Queen officially opened the second tunnel in July this year.
Both connect the A19 in East Howdon north of the Tyne with the A19 through Jarrow in the south.