Roker and Seaburn seafronts in Sunderland get £1m revamp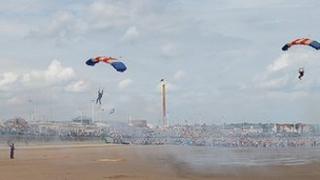 Council bosses in Sunderland have unveiled plans for a £1m revamp of the seafront areas of Roker and Seaburn.
The work will focus on Marine Walk in Roker and Seaburn's promenade.
Sunderland City Council is sharing the cost with the Commission of Architecture and the Built Environment (Cabe) Sea Change fund.
The authority said it hoped to appoint contractors by December, with the redevelopment work completed by July next year.
The project will see the installation of new street furniture, lighting and play facilities.
Millions of people visit Seaburn from Sunderland's annual international air show.