Great North Run: Louise Bourton loses 10 stone running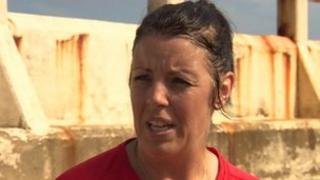 More than 50,000 people will take part in Sunday's Great North Run and each one has their own inspiration for taking part.
Louise Bourton from Shiremoor, North Tyneside, has lost ten stone since she started running and credits getting fit with saving her life.
The 39-year-old has a medical condition which, she says, has an unmerited stigma attached to it.
"Whatever you do, don't Google it. It'll scare you. It scares me, and I've got it."
The condition is bipolar disorder.
"I have something called Bipolar Affective Disorder 1, and I have to have medication every day.
"When the condition gets extreme, it's like living your life looking through a kaleidoscope, because everything is going so fast."
She admits to a love-hate relationship with the condition.
"I'm sure it gives me the drive and determination I've got, and what I hope people can learn from me is that it doesn't have to be solely a negative thing."
Her diagnosis came three years ago, after she had suffered a breakdown following the death of a family member.
By that point, she felt unable to continue with the successful web design business she had built up.
"I had to give it up. Everything in my life had changed", she said. "I was in freefall. I was sitting at home eating junk and my weight had ballooned to twenty stone.
"Then, one day, I decided to run. I ordered some size 26-28 jogging bottoms and I bought a man's XXXL tee-shirt, and went running in the middle of the night."
Why at night ?
"Because I was scared. I was so fat, I was scared of people shouting things at me.
"Eventually, I joined a running group, and my friends told me I needed proper running kit - Lycra. I thought I could never wear Lycra.
"I went to a running shop and the running tights I needed were size 10-12. I texted my trainer and she texted back to say 'welcome to the butterfly'.
"What she meant was that the butterfly had come out of its cocoon. I still get goosebumps when I think about that day."
Miss Bourton believes others could benefit from following her.
"When you pull your trainers on, and you run, you feel strong," she said.
"You feel invincible and free. When there's other stuff going on, whether you have a mental illness, whether work's too much or even if it's your kids driving you mad, you put your running kit on, and it all goes away.
"I'm not joking when I say this, but running saved my life."
You can see more on Louise's story on Look North on BBC1 at 18:30 BST.