Newcastle University engineers develop baby scanner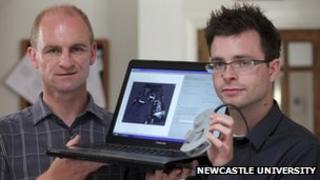 A low-cost baby scanner has been developed by Newcastle University engineers.
The small device can be plugged into any computer or laptop to reveal vital information about an unborn child.
At a cost of £30 to £40 to make, it is far cheaper than traditional ultrasound machines which cost £20,000 to £100,000.
Electronic engineering lecturer Jeff Neasham was inspired to research the idea by his wife's first pregnancy.
"I was sat with my wife looking at our child on the screen," he said.
"We realised how privileged we were to have access to this kind of care and it was my wife who suggested that I could apply my knowledge from sonar research to try to make this more affordable."
Mr Neasham and his research associate Dave Graham "treated it as an interesting engineering challenge" and used the cheapest parts possible to produce a "useful image".
"Cost was the key," Mr Neasham said. "The goal was to produce a device that could be produced for a similar cost to the hand-held Doppler devices (foetal heart monitors) used by most community midwives.
"Not an easy task when you consider a £20,000 scanner is generally classed as low cost."
He said the images on his machine could show if a baby was positioned badly in the womb, but were not yet clear enough to show its sex.
"We are not at the stage where we can completely match the image quality of a really high-end scanner, but we are getting closer and closer."