Tim Williamson from Newcastle to walk solo to North Pole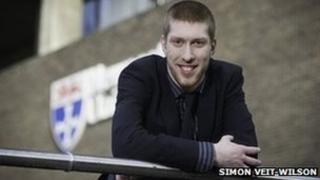 A man from Newcastle is hoping to become the first person to attempt to walk solo to and from the North Pole.
Tim Williamson, 25, a lab technician at Newcastle University, will set off from Resolute Bay in Canada at 13:13 EDT on 13 January, 2013.
He will cover the 2,200-mile return journey over 100 days, without the use of skis, in temperatures of -60C.
Mr Williamson says if he succeeds it would be the longest solo and unsupported expedition in the world.
Mr Williamson, who studied bio-medical science at Durham University, said: "I've only got one life to live and I want to make the most of it, and this is the ultimate challenge.
"The majority fail because they aren't built for walking long distances. This is the thing I'm specially built for."
'Green expedition'
His only company during the trek will be a heavy sled, which he said would be a help and a hindrance.
He said: "I'm planning on being out there for 100 days, so I'm having to take equipment weighing 120kg (19 stone) in a sled called a pulk, and I'll be dragging that the entire distance.
"The sled that I have can actually float. I'll have buoyancy tanks and I will be able to sit on it and paddle my way along between ice flows."
He will regularly report back to his team, and tweet during the trek using a satellite phone.
He said: "I'm hoping this will be the greenest polar expedition, so I won't be taking a huge amount of batteries.
"When the sun comes up, I'll be able to recharge those using solar power.
"For the first month, however, solar power will be out of the question as it will be dark for 24 hours a day."
Mr Williamson is no stranger to extreme conditions and distances.
"My first experience of arctic conditions was in February during the Yukon Arctic Ultra, which is a 300-mile race [in Canada].
"I was seen as a rookie but managed to come second, and that started off this huge snowball which has ended up here."