Dowager Duchess of Northumberland, 90, dies at home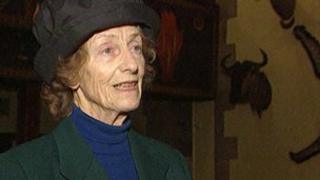 The Dowager Duchess of Northumberland has died at her home at the age of 90.
Duchess Elizabeth was married to Hugh Percy, 10th Duke of Northumberland, for 42 years until his death in 1988.
A Northumberland Estate spokesman confirmed the Duchess died peacefully at her home on the Percy's Albury Estate in Surrey on Wednesday.
The family said: "The family are greatly saddened by the death of our mother and grandmother whom we all loved very dearly."
Born Lady Elizabeth Montagu Douglas Scott in 1922, Duchess Elizabeth was the daughter of the 8th Duke of Buccleuch.
She was the mother of Ralph Percy, the 12th Duke of Northumberland.
'Hugely missed'
A Northumberland Estates spokesman said: "She was a much loved member of the community who devoted a great deal of her life to a wide range of charities and other causes, many of them local.
"She enjoyed life and in particular her family and her many grandchildren.
"Everyone who ever met her will agree that she was a lovely lady who will be sadly missed, particularly here in Alnwick and on the Estate."
Duchess Elizabeth celebrated her 90th birthday in Alnwick earlier this year.
Local MP Sir Alan Beith said the "warmth she showed people" meant she will be "hugely missed" throughout Northumberland.