Vince Cable at Rolls Royce site in Washington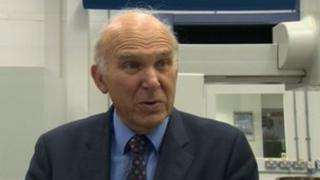 Business Secretary Vince Cable has marked the start of construction of a Rolls Royce factory in Tyne and Wear.
The aerospace disc manufacturing facility at the Radial Business Park, Washington, will make more than 2,000 fan and turbine discs a year.
The new factory will replace the existing plant at Pallion in Sunderland, where about 450 people currently work.
Production at the new plant is expected to begin in late 2013.
Mr Cable marked the start of construction with a groundbreaking ceremony at the site.
He said: "The new Rolls Royce advanced aerospace disc manufacturing plant will further strengthen the UK's position as an aerospace leader, and underpins the company's ongoing commitment to the North East and its workforce."