Legacy-funded Newbiggin lifeboat launched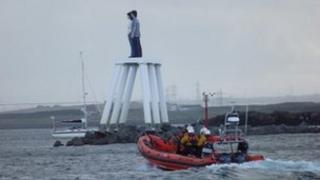 A £180,000 lifeboat has been launched in Northumberland thanks to a supporter's legacy.
The RNLI Atlantic 85, called Richard Wake Burdon, will be based at Newbiggin and will replace an Atlantic 75 boat which has been in service for 14 years.
It was funded from the legacy of Hylton Burdon, who died in 2002, and named after his brother who died while serving in the Royal Navy in the 1940s.
The boat is equipped with radar and is faster and bigger than its replacement.
Mr Burdon's legacy has already funded an Atlantic 85 for Cullercoats RNLI and the charity said such donations were important for its operations.
Station mechanic at Newbiggin RNLI Richard Martin said: "We are so grateful to Mr Burdon for his generosity and will remember both him and his brother each time we launch on a rescue mission."