Gardeners' Question Time recording postponed by rain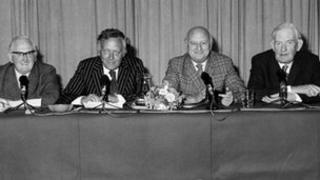 A recording of BBC Radio 4's Gardeners' Question Time in a Northumberland village has fallen foul of the weather.
The programme's third ever show was recorded in Humshaugh 65 years ago and producers had planned to revisit as part of a northern anniversary tour.
Executive Producer Robert Abel said the team was "very disappointed" to have had to cancel the recording.
The panel and production team had been advised not to travel because of the dangerous conditions on the roads.
"The village holds a special place in the history of the programme," Mr Abel said. "As soon as it is safe and practical to do so we intend to get back to Humshaugh."
The programme - originally called How Does Your Garden Grow - began in 1947 as a response to the wartime Dig For Victory campaign.
Thousands of questions
Initially it centred solely on the north of England but, in 1957, it spread countrywide.
Billy Glendinning, who now lives in Wark, went to the 1947 recording as a 12-year-old boy.
His father - a prize winning leek grower and judge - gave him a question to ask, which he can still remember "no bother at all".
"Which makes the best plants - leeks growing from seed or leeks growing from pods?"
He remembers being "shaken a bit" and cannot remember the answer, but said he would have liked to see if the current team gave the same one.
The programme's producers say its various teams have now answered more than 30,000 questions.
Until 1994 they were shown the questions in advance but now audience members hand them in as they arrive for the recording.
The Humshaugh recording is now expected to take place on Monday, 22 October.