Port of Tyne welcomes 'world's largest' wind turbine vessel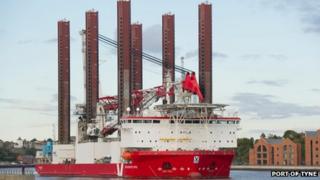 A wind turbine installation ship, said to be the largest of its type in the world, has arrived at the Port of Tyne.
The 455ft MPI Adventure left its base in Middlesbrough and arrived at the port on Thursday night.
The vessel is in the Tyne to collect a 750-tonne offshore structure which will collect marine data for the proposed Blyth Offshore Wind Demonstration Site.
A spokesman for the Port of Tyne, said the "next generation" MPI Adventure is expected to leave later in the week.