Fighting Fire with Fire in Durham's Hamsterley Wood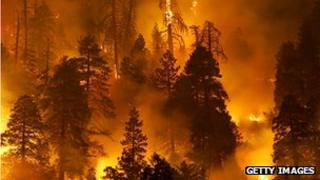 Forest fires can devastate thousands of acres within hours and stretch the resources of fire services to breaking point.
They affect every continent except Antarctica and despite recent heavy rain in the UK, its forests are also at risk.
To stay on top of the threat firefighting forces need co-ordinated exercises and in the latest, in County Durham, six firefighting forces were brought together.
Fighting Fire with Fire, focused on the need to quell a forest wildfire in Hamsterley Forest.
"It's been months in the planning," said Steve Warton, Group Manager for County Durham and Darlington Fire and Rescue Service.
"Each Fire and Rescue service has its own expertise and Durham and Darlington has high volume pumping equipment expertise strategically placed around the county."
'Sheer elbow grease'
"Each high volume pump appliance carries a mile of hose, but we are using over 8km of hose pumping 7,000 litres of water a minute.
"We could empty an Olympic-sized swimming pool in under three hours.
"Abroad, they use aircraft that drop water and a fluid inhibiter that coats the foliage - sort of fire-proofs the trees - but we don't.
"It's still all down to water and sheer elbow grease with forests," he said.
The exercise was led by the County Durham and Darlington Fire and Rescue Service with teams involved coming from Cumbria, Northumberland, Tyne and Wear, Norfolk and Staffordshire.
A wildfire will quickly cover a wide area easily leaping wide gaps such as roads, firebreaks and even rivers.
But with 12% of the UK landmass being forestation and despite what appears to be a wetter climate for Britain, the need for quick and effective responses to forest wildfires is crucial.
Gavin Pallister, County Durham and Darlington Fire and Rescue Service, was up at the sharp end - where a wildfire scenario was being played out at the end of the 8km of hose.
"This exercise will allow fire-fighting techniques specific to wildfires to be practised," he said.
"There's Offensive Burning, where crews use controlled burning directed towards the fire to prevent further uncontrolled spread.
"And then Defensive Burning, where crews burn vegetation before the arrival of the fire front to starve it of fuel.
"And we'll be constructing control lines, where we form a firebreak or a safe area created using hand tools or machinery if it is available."
The loss of wildlife habitat can be devastating, especially if woodland is sited in SSSI (Sites of Special Scientific Interest) areas, of which there are 22,000 in the UK.
Neil Taylor, is the Forestry Commission's Recreational Ranger at Hamsterley. He very much sees the need for such exercises.
"It's utterly essential that the Forestry Commission works closely with the Fire and Rescue services," he insisted, "the Forestry Commission has been contracting with their staffing over the past years and we can't fight fires any more.
"However," he went on, "we add to their team effort - the Fire and Rescue Service can arrive at a location such as Hamsterley and we can immediately be their guide letting them know what fuel value there is in the wood and what the state of the roads are."